Brazilian Cherry Wood Stair Parts
Known in Brazil to be a very fine wood for furniture, Jatoba or Brazilian Cherry is an imported hardwood with very good rot resistance and a durable reputation. It has a tight interlocking grain that is responsible for its strength and reputation as a tool eater. With care, the light orange to brown tones create very striking finishes.
Brazilian Cherry trees are not actually cherry trees but instead carry the name likely because its natural color, a dark-reddish brown, is known to match the stained color of some domestic cherry trees. Also called the Jatoba tree, Brazilian Cherry wood is known to be one of the strongest types of hardwood. This presents both pros and cons for woodworkers considering using Jatoba to complete home projects such as building indoor staircases. However, because Brazilian Cherry is so strong, it does represent a great value for those woodworkers who want a product that is high strength, but low cost.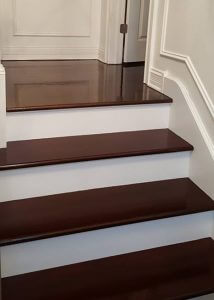 Fun Fact, Wikipedia indicates Brazilian Cherry also carries the nicknames, "Stinking Toe," "Old Man's Toe" and "Stinktoe" because of the unpleasant smell found in the Brazilian Cherry trees edible pulp of its seed pods.
About our Brazilian Cherry Stair Parts
Brazilian Cherry is often used for home flooring projects because of its strong durability compared with other types of hardwood. It is also known to stain beautifully, which is ideal for anyone looking to use this type of hardwood in a home or office setting to match other pieces of furniture and decor. However, because it is so strong and hard compared to other types of wood, it does not bend well except under steam-bending techniques. It is considered to be one of the more difficult woods to work with because of its density and hardness. It does have a moderate blunting effect on tool cutters. However, the fact that Jatoba glues, stains and finishes well overall, it can still be a great option for many home projects like a wood staircase.
Jatoba is known for its versatility. It can be used well both on indoor wood projects as well as with outside construction. Brazilian Cherry is often used in decking, outdoor wood stairs, siding and exterior furniture. It is a great outdoor wood option because Jatoba is known to be very resistant to rotting and threats by insects. This is why it can often be a choice wood for outdoor woodworking projects.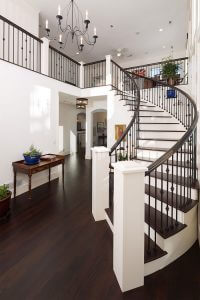 Our most popular African Mahogany stair parts by category include:
6900 Brazilian Cherry Bending Handrail – Let your solid elegant handrail be seen with the 6900 profile bending handrails.
6109 Brazilian Cherry Handrail – This straight wood handrail offers a more round modern or regal dynamic to your stair balustrade. SKU LJ-6109
4091 Brazilian Cherry Box Newels – SKU – LJ-4091 – Available as a fluted box newel, standard box newel, and raised or recessed box newels. These box newel posts are 6 1/4″ x 55″ and designed to stand out.  You may even consider purchasing these in a paint grade wood and combining them with your Brazilian Cherry Handrails, Treads, and Flooring to create a staircase like the one pictured above.
Wrought Iron Solid, Twist, or Basket Balusters – Add a combination of wrought iron balusters (like pictured above) to round out and bring together your striking Jatoba stairs and painted newel posts.
Brazilian Cherry Treads – SKU LJ-8070 – Available on our website in 36", 42", 48", 54", and 60" lengths. Or we can custom make Jatoba stair treads to suit your needs.
For the best Brazilian Cherry hand railing, stair fittings, treads, risers, stair balusters, and winder treads, check out our wood stair parts catalog!
We can answer any questions you might have about our Brazilian Cherry Parts. We can also ensure you can make a quick and easy order for a variety of Jatoba stair parts including newel posts, treads and railings made out of this strong hardwood. Place your order today to discover our high-quality wood stair parts that can be delivered quickly to your work site for an upcoming woodworking project.
Picture Sources:
classicfloorschicago.com
youtube.com/watch?v=XsxbD28GToE