Santos Mahogany Wood Stair Parts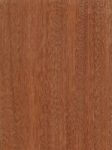 Santos Mahogany can have a varied color from light brown to darker reds and even purple. It is a beautiful hardwood with an interlocking grain. This tree is used to make Balsam of Peru. One of the prettiest woods for stair treads!
Call us for a quote on your next Santos Mahogany wood stairs project!
Within the mahogany family there are several varieties of this type of lumber. Santos mahogany is known for its rich, dark colored wood that is found to be dense and stable in texture. Many woodworkers prefer this type of lumber for woodworking projects because of its excellent hardness and durability making it an excellent choice over other types of genuine mahogany, which is sometimes too soft for woodworking projects like wood stairs and wood flooring.
There are variations within Santos Mahogany products with a fair degree of color variation. It can range from lighter golden brown to a darker and more purple-red or burgundy color. Often times with Santos Mahogany, the color tends to turn a darker red or purple shade with age. Sometimes cut pieces of Santos Mahogany can show a striped or ribbon pattern. The grain and texture of Santos Mahogany are usually interlocked and features a medium to a fine type of texture. It offers a good natural luster. Another reason Santos Mahogany is popular with woodworking projects is because the rot resistance is rated very durable. This means it can hold up better than some other types of wood with a strong decay resistance and is generally considered stable against insect attacks.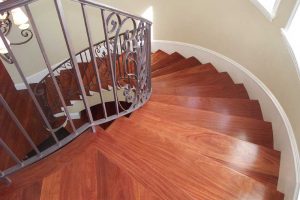 The workability of Santos Mahogany, like other types of woods, features a slight blunting effect on cutting edges of certain tools. With Santos Mahogany the working characteristics are considered fair to poor because of its density and interlocked grain. Unlike other types of wood, Santos Mahogany stains can sometimes be an issue depending on the wood finish as well.
About our Santos Mahogany Wood Stair Parts
When considering different types of mahogany for your upcoming wood projects, it is important to note that not all mahogany is considered to be genuine mahogany. Such as the case was Santos Mahogany. It is not actually related to true mahogany but is still lumped with mahogany because of its appearance. However, the plus side to this is that it is actually much denser, stronger, harder than most true mahogany woods, which means it will hold up longer. Although the drawback to that is that it can be more difficult to work. Mahogany stair treads are built to last!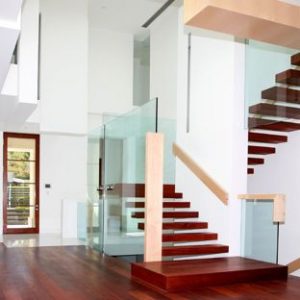 Santos Mahogany is distributed from southern Mexico and Central and South America. We offer a variety of economical Santos Mahogany wood stair part choices for your upcoming wood stairs project. Check out our website to see what Santos Mahogany wood stair parts are a good option for you and discover our quick and easy ordering process.
Photo Sources:
houzz.com
wood-database.com