Tigerwood Wood Stair Parts
Tigerwood or Jobillo is characterized by its medium red-brown color accompanied by irregular dark streaks. It is very strong, durable and stiff so it makes great flooring and stair parts.
Tigerwood is a type of lumber that is produced from several different types of trees. These trees are tropical in variety and are often found in Africa as well as from several species found in Mexico and then southward toward Brazil. Tigerwood's other common names are Goncalo, Alves and Jobillo. For the purpose of its use as a lumber and various home projects such as wood flooring and wood stairs, this type of wood is most commonly called tigerwood.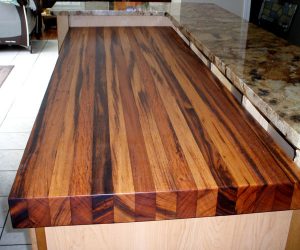 According to the Wood Database, the tree size of a tigerwood ranges from about 100 to 130 ft tall. The trunk is about 3 to 5 ft in diameter. When it comes to the color of tigerwood the Heartwood is usually found to be a medium reddish brown and features regularly spaced steaks of darker brown shades ranging to black. Like other types of hardwoods, the color of tigerwood tends to darken with age. Other characteristics of tigerwood include a grain that is straight but is sometimes wavy or interlocked. It also features a fine uniform texture and has good luster, which makes it a popular type of wood to use in home projects such as furniture, stairs and flooring.
About our Tigerwood Wood Stair Parts
Within the wood industry, tigerwood is often one of the most popular choices because of its stiffness, strength, durability, hardness and density.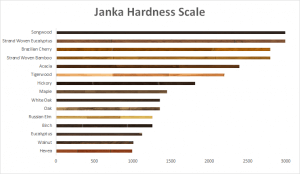 Woodworkers or builders looking for a type of lumber to use for outdoor projects like wooden stairs for an outdoor deck,often find it can be difficult to find a wood that is decay and rot resistant. However tigerwood has great weathering properties and is also rated to be very durable when it comes to decay resistance. This means tigerwood is an excellent choice for indoor and outdoor wood projects. The workability of tigerwood is that it is not too difficult to work even though it has a high density. Sometimes pieces with a regular grain can pose a challenge in machining operations, which can have a dulling effect on sharp cutting tools. The wood is also resistant to moisture absorption, which makes it difficult to glue. However, thanks to its color and natural luster tigerwood turns and finish as well.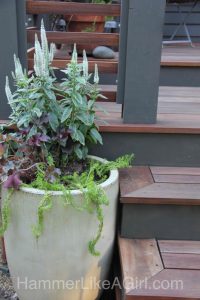 Tigerwood is a great option for flooring, furniture, cabinetry, turned objects, archery bows, knife handles, tool handles, veneers, carving projects. Because of its versatility this is why tigerwood is a great option for any wood stairs project. Newel posts, railings, tread and more can all be available in tigerwood and are available on our website.
Pricing and availability for tigerwood indicates the lumber is widely available. Find a variety of high-quality and American-made Wood Stair parts on our website for your upcoming wood stairs project – whether you plan to build inside or outside.
Photo Sources:
brookscustom.com
hammerlikeagirl.com
hardwoodbargains.com