Western Red Cedar Wood Stair Parts
Western Cedar is a pale softwood with fine, narrow grain and soft gray and light brown streaks. Commonly used in exterior siding, it is resistant to weathering and warping. It has a very pleasant aroma when it is being worked.
The Western Red Cedar or Pacific Red Cedar is of the species of Thuja Plicata, which is an evergreen coniferous tree in the Cypress family native to Western North America. Despite its name including the word Cedar, it is not a true Cedar of the genus Cedrus.
Western Red Cedar is found to be most widespread in the Pacific Northwest and is often associated with Douglas-fir and Western hemlock types of lumber. It grows in lush forest environments and mountainsides as well as is found to grow in many forested swamps and stream banks. According to the National Arbor Day Foundation, the tree is shade tolerant and produces well under excessive shade. The species naturalized in Britain but is now grown in other areas including Western Europe, Australia, New Zealand and the Eastern United States as well as higher elevations of Hawaii.
About Our Western Red Cedar Stair Parts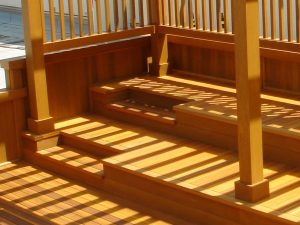 For Woodworkers looking to use a type of lumber that is decay and rot resistant, Western Red Cedar is a great option because it has a high level of resistance to decay. This is why it is extensively used in outdoor construction. Fence posts, decking, outdoor wooden stairs, siding and shingles are just some of the ways Western Red Cedar is used among home builders and woodworkers. It is also sometimes used for the framing and longwood in lightweight sailboats and kayaks. For larger boats, it is sometimes used in sandwich construction between layers of epoxy resin and fiberglass or similar products, according to the Wood Database online. It is a lightweight lumber and is found to be about 30% lighter than other common boat building woods like mahogany. It is strong but can also be brittle. Western Red Cedar is also a wood typically used as an insect repelling closet lining and is made to make cedar chests.
The Western Red Cedar features a hardwood that is reddish to pinkish brown. Sometimes it has random streaks of darker red and brown areas. The grain of the Western Red Cedar is straight and has a medium to coarse texture.
Western Red Cedar is also popular among woodworkers because it is easy to work with for both hand and machine tools. It can dent and scratch easily due to its softness, however. Western Red Cedar glues and finishes well, which is great for the usage of Western Red Cedar in home flooring and wood staircases.
Our Western Red Cedar Staircase products can be found in a variety of options on our website. We are happy to answer any questions you might have about our Western Red Cedar stair parts to ensure you are able to place an order quickly and easily to help you get started with your wood stairs project.
Red Cedar Wood Stair Parts
Another type of Cedar is Red Cedar; the woodworking industry name for a type of red juniper tree, which is native to North America from South Eastern Canada to the Gulf Coast of Mexico and east of the Great Plains. Other common names for Red Cedar include Eastern Red Cedar, Virginia and Juniper, Eastern Juniper, Red Juniper, Pencil Cedar and aromatic Cedar. It is a slow-growing coniferous tree that needs good quality soil to grow to its potential of 16 to 66 ft tall. The Red Cedar tree can grow to an old age for hundreds of years. The oldest tree was reported from West Virginia and was 940 years old, according to Wikipedia.
About our Red Cedar Wood Stair Parts
The Red Cedar tree has a heartwood that tends to be reddish or violet-brown in color. The sapwood of the Red Cedar is a pale yellow color and can appear throughout the heartwood as streaks and stripes. The grain of a Red Cedar is usually straight, but sometimes it has knots present and has a very fine texture. The rot resistance of a Red Cedar is found to be excellent in resistance to both decay as well as in regard to various insect attacks. This is why Red Cedar is often used for outdoor projects like wood flooring and wood stairs for outdoor decks as well as fence posts. It can be used directly in contact with the ground and does not require pre-treating of the wood. This outdoor versatility makes it a prime choice for woodworkers looking for a high-quality wood for an outdoor project.
The Red Cedar workability is found to be easy to work with as long as there are no knots are irregularities seen in the section of lumber. It is reported that Red Cedar has a high silica content, which can dull sharp cutters much like other types of wood. The Red Cedar also glues, stains and finishes well, which is great for many home projects. The beautiful end result of a finished piece off Red Cedar lends itself to be desirable for home aesthetics. Pricing of Red Cedar is considered low to moderate. Because Red Cedar is able to be used in a variety of purposes, it is popular among woodworkers. Other common uses for Red Cedar include closet and chest linings, carvings, outdoor furniture, pencils, wooden specialty items, bows, birdhouses as well as wood flooring at wood stairs.  If you are looking for a versatile and high-quality type of wood for your wood stairs project, check out the Red Cedar options we have available on our website. Our Red Cedar stair parts are made in the United States and can be shipped quickly for use in an upcoming wood stairs project.
Photo Sources:
douglasshepherd.wordpress.com
reddit.com – diy
workshopcompanion.com