White Pine Wood Stair Parts
White pine has a wide medium even grain and a uniform pale color that sometimes includes reds, browns, yellows and even white. It is very easy to work with and has a pleasant scent when being worked.
The White Pine tree is one of the most well-known trees and types of lumber in the United States. It has been popular for hundreds of years in North America and is native to the eastern part of the region. However, it originates from Newfoundland, Canada and all the way west through the Great Lakes region to Southeastern Manitoba and Minnesota. It is also native along the Appalachian Mountains and upper Piedmont area to Northmost Georgia. The White Pine is also found in northeastern Alabama.
The harvesting of White Pine trees began in the 19th century in midwestern states and played a big role is America's Westward Expansion to the Great Plains. The White Pines were harvested and sent to lumber yards throughout the United States. Being that White Pine was common and easy to cut, many colonial homes in the United States were built using White Pine, according to Wikipedia. It was also used for paneling, floors and furniture.
About our White Pine Stair Parts
The heartwood of the White Pine is a pale straw color. White Pine that ages tends to darken into a deep, rich golden tan color. Sometimes White Pine can be found in a light brown with unusual yellowish golden or reddish brown hues. This is often called Pumpkin Pine.
White Pine is a popular choice among woodworkers because of its availability, economical expense, ease-of-use, rot resistance and aesthetic appeal. When a type of lumber has all of these features, it can be used in a variety of ways thanks to its versatility including for indoor and outdoor wood construction projects. Within the history of the White Pine, its lumber was also used to create masts for ships. White Pine was an original favorite type of lumber among woodworkers because it can still be processed in the lumber mill a year or more after being cut down. Most other trees like cherry, maple, and ash need to be cut into 1-inch thick boards immediately after the tree is cut or large cracks can develop in the trunk, which will render the wood worthless.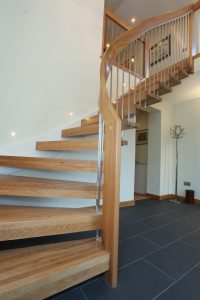 We have a variety of high-quality White Pine wood stair parts available on our website including newel posts, railings, tread and more. Be sure to check out the White Pine availability to determine if it is a good choice for your wood stairs project. We are happy to answer any questions you may have about using White Pine to build your wood staircase.
Photo Sources:
hashook.com