Yellow Birch Wood Stair Parts
This is the most common Birch in North America. It has great durability and is quite economical. It got its colorful name from its bark, not its wood. There is not much variation in the almost white wood grain, making this species a go-to when uniformity is the name of the game.
Yellow Birch is one of 50 types of birch tree found around the world. Yellow Birch, also known as Silver Birch and Swamp Birch, is primarily found in Northern America and Canada. It is considered to be the most important type of birch for woodworking projects. Because of its high availability, low cost, durability and attractive finish, it is a favorite of woodworkers and home designers. Yellow Birch is known to grow best in rich and moist woodland areas next to rivers and streams. It's most well-recognized for its metallic sheen on the bark of the Yellow Birch and has numerous papery curls and stripes down its bark.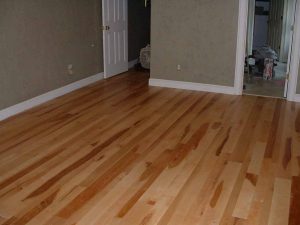 According to Wood Magazine, Yellow Birch is often used as a standard hardwood for home items and products that get a lot of use. In fact, many of the turned products sold in home furniture stores are from the Yellow Birch. This wood, known for its versatility and ease of use is also used to build products like dowels, dowel pins, plugs and screw-hole buttons, which is great for those building furniture or homewares needed to be made from wood.
When it comes to the appearance of Yellow Birch, the stainability isn't as great as other types of wood, but better than others like Maple. The grain of the Yellow Birch varies, even within the same piece of wood and can range from golden tan to light walnut. Some of the hardwood pieces might contain gray or red tinges. The Yellow Birch also features a distinct grain pattern. This pattern displays waves or curls, but the texture isn't overwhelming to the eye, which makes it a fine choice for many woodworkers. Yellow Birch is known to be used particularly for home flooring, furniture, staircases, doors, veneer wood products, cabinets, gun stocks and even toothpicks.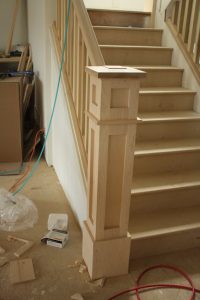 About our Yellow Birch Stair Parts
We offer Yellow Birch hardwood pieces for just about every stair part needed for at-home projects including wood stair treads, newel posts and even handrails. We also offer high-quality Yellow Birch wood to that is perfect for helping home builders, designers and woodworkers of all types find the best pieces of Yellow Birch wood stair pieces for their upcoming project. These Yellow Birch stair parts are made in the United States. We can ensure your parts can be ordered quickly through our website. We are happy to answer any questions you may have about our Yellow Birch stair pieces to ensure your products will arrive as expected and quickly at your work site to help you create a beautiful wood staircase.
Picture Sources:
timberknee.com – flooring
jasonandabbyrogers.blogspot.ca – stairs