Yellow Pine Wood Stair Parts
Radiata or Yellow Pine has medium brown heartwood that is distinct from its pale yellow to white sapwood. It has a medium uniform grain and few knots. It has low rot resistance but is very treatable and versatile.
Yellow Pine is the industry term for the coniferous species of tree known as the Jeffrey pine or ponderosa pine. In the Southern United States, Yellow Pine can refer to longleaf pine, shortleaf pine, loblolly or slash pine. In the United Kingdom, Yellow Pine refers to the Scots pine or the eastern white pine.
The Yellow Pine is a term that is used to describe these types of trees that grow in similar plant communities and yield similar types of strong woods.
The Yellow Pine is all encompassing of Pines that are opposite of soft Pines. The Yellow Pines feature the highest densities and are usually found to be uneven grained and are essentially indistinguishable from one another, according to Wikipedia.
About our Yellow Pine Stair parts
As opposed to White Pine, Yellow Pine is harder in density, which means it is a better choice for wood flooring and wood stairs projects, according to the Wood Database online. Its durability will lend itself to being a more reliable type of wood for those types of structures. Woodworkers often prefer Yellow Pine to White Pine and other softer Woods because of the workability, rot resistance and density. This also means Yellow Pine can be a great option for those woodworkers looking for a high-quality type of wood for outdoor projects.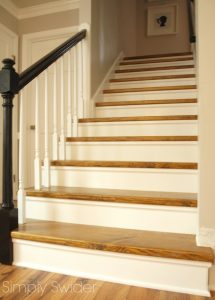 The Heartwood of Yellow Pine varieties features a reddish brown with a Southwood showcasing a yellowish white luster. The grain is straight with a fine to medium texture. The workability of Yellow Pine varieties is overall positive. However, it is important to note that the resin can clog up tools and sandpaper and has a moderate dulling effect on cutting edges, which is common of most types of wood with such a high density. Pine is known to glue and finish well. Yellow Pine, because it encompasses such a large amount of lumber, is found to be widely available as construction lumber for a low to moderate price. Other uses for Yellow Pine include heavy construction, bridges, poles, railroad ties, plywood, wood pulp and veneers. This means that can be used to make just about any home project like wood flooring, wood stairs, deck stairs, furniture and more. If you are considering using Yellow Pine in your wood stairs project, check out our website to find the various types of high-quality Yellow Pine wood stair parts we have available.
Photo Source:
simplyswider.com/carpet-wood-stair-makeover-reveal/