Hickory Wood Stair Parts
Hickory wood is one of the hardest and strongest United States native woods. It is used in hammer handles and ladder rungs as well as floors and fuel for the smoker. Hickory is one of the most colorful woods, with variations of reddish brown, white, and lighter brown.  Color variations may have a striped or calico look.  It is very dense and high strength; economical and utilitarian. The grain is typically straight, but can be wavy or irregular.  A specific look or color may not be guaranteed because of the many variations in hickory, but if you are looking for a specific type or style of hickory stair parts please contact us directly – (888) 390-7245.  All our hickory stair parts are custom made in-house.
Our most popular hickory stair parts by category include:
5700 Hickory Handrail – Our custom in-house handrail design will set your stairs apart from all others.
6041 Hickory Handrail – Designed for use as a wall mounted handrail for an enclosed stairway. SKU LJ-6041
4091 Hickory Box Newels – SKU – LJ-4091 – Available as a fluted box newel, standard box newel, and raised or recessed box newels.
2105 Hickory Balusters –  1 ¾" Challis Urn Square top hickory balusters work well with the 6010 or 6000 stair handrail. SKU LJ-5300 –
Hickory Stair Treads – SKU LJ-8070 – Available on our website in 36", 42", 48", 54", and 60" lengths. Or we can custom make hickory stair treads to suit your needs.
Hickory is known to be an ideal type of wood for any woodworking project. There are some types of lumber that are stronger than Hickory, as well as woods that are known to be harder, but the prime conditions combining the strength, hardness, stiffness and toughness all found in hickory wood is not often found in other types of commercial woods. That is why Hickory is used for so many different types of projects. If you are looking for a type of wood for your upcoming wood stairs project, Hickory is one you should consider.
Hickory is a type of tree, which comprises the genus Carya. This genus includes 17 to 19 species, according to Wikipedia. Out of these species, about 5 or 6 are native to China and India. However, as many as 12 types of the Hickory species are native to the United States. A few are from Canada and from Mexico.
The hickory tree is deciduous with compound leaves and large nuts. Hickory trees do produce flowers, which are small, yellow and green. They often produce in the spring.
Hickory wood is known to be hard, dense, stiff and shock resistant. Because of the ideal characteristics of Hickory this type of wood, it is used to make a variety of products including tool handles, bows, carts, drumsticks, golf club shafts, skis, paddles, and woodworking construction projects such as flooring, furniture, and wood stairs.
Fun fact about Hickory: Hickory is known to be great wood to burn when smoking cured meats. Especially in the Southern United States, Hickory is often popular for cooking barbecue because it grows abundantly in the area. It is known to add flavor to the meat.
The bark extract from one type of Hickory species known as Shagbark Hickory is also used in edible syrup. This is similar to maple syrup but features a slightly better smokey taste.
Pignut Hickory is known to be one of the most commonly used types of lumber out of the Hickory species. Its Heartwood tends to be on the light to medium brown side, but features a reddish hue. Sometimes it is marketed as Calico Hickory. The grain is usually straight, but sometimes wavy.
About our Hickory Wood Stair Parts
The workability of Hickory varies depending on the work it needs. It is known to be susceptible to tear out during Machining operations if the cutting edges are not kept sharp. However, Hickory does glue, nail, stain and finish as well. It also responds well to steam bending techniques.
Hickory is encouraged to be used as an indoor type of wood because it does not have very strong rot resistance. It is considered nondurable to perishable regarding its Heartwood decay. It is also known to be very susceptible to various insect attacks.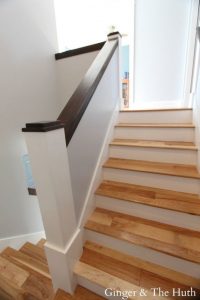 For the best hickory hand railing, stair fittings, stair balusters, treads, risers, and winder treads, check out our wood stair parts catalog!
Hickory is a very affordable option with prices usually in the low-to-mid range depending on availability. Hickory prices often compared to that of red oak or soft maple.  Check out our Hickory wood stair parts on our website to find the hickory wood products that will work best for your wood stairs project.
Photo Sources:
bruce.com
hometalk.com