Red Oak Stair Parts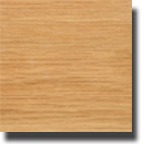 Red Oak is the most widely used hardwood in the United States. Red oak stair parts are the most popular type of wood stair parts available on the market today with the heartwood being the most popular for its red color. It varies from a white to light brown sapwood and pink/reddish brown heartwood. It is mostly straight-grained, with a coarse texture. It machines, nails and screws well but pre-boring is recommended. It can be stained to a good finish in a wide range of tones. It is relatively hard and heavy and has great wear-resistance. Red Oak is relatively inexpensive and has a Janka Hardness rating of 1290.
Red Oak trees can grow to be up to 20 feet tall in as little as 10 years and can live to around 500 years old. Red oak stairs are the most popular type of stairs used in the United States. The timber grows as far north as the Great Lakes and down to the south and west all the way to Oklahoma – Wikipedia.  China is one of the biggest sources of red oak parts in the US. Our stair parts are made in the USA and no veneers are used – which is typical among the imports of red oak stair parts from China.
About our Red Oak Stair Parts: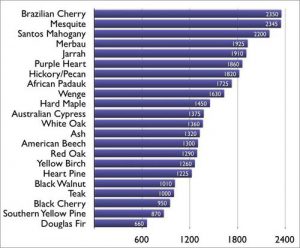 Our red oak stair prices are just slightly higher than those of poplar and hemlock and about the same as our alder. Our top quality cheap stair parts in red oak are made in the USA. Red oak stair systems and parts are more popular in the eastern part of the country as it is more accessible. Our mill can get red oak material same day and produce red oak stair parts within days.
Our most popular red oak stair parts by category include:
6010 Red Oak Handrail – the most versatile handrail in the industry. SKU LJ-6010
6000 Red Oak Handrail – a clean and contemporary look for modern design. SKU LJ-6000
4091 Red Oak Box Newels – SKU – LJ-4091 – our most popular stair box newels.
5060 Red Oak Balusters – square red oak balusters that go with the 6010 or 6000 handrails quite well.  SKU LJ-5060 – very similar to the LJ-5360
Red Oak Stair Treads – SKU LJ-8070 – ranging in size from 36″ to 60″ in all types of wood including oak.
For the best stair balusters, treads, risers, winder treads, stair fittings, and hand railing in red oak check out our wood stair parts catalog!
We offer everything from red oak baluster, red oak stair treads, and red oak handrails.  Red oak is lower on the hardness scale so it can be more susceptible to scratches or dents in the wood. It has a nice reddish color and a clear coat will bring this out. If you stain it a little darker it will bring out the grain even more. Red oak is very noticeable among the different types of wood – if you're looking for something very unique and different for your home we'd recommend something like Brazilian Walnut or Brazilian Cherry. If you're looking for a classic look with a good value or price – red oak is the way to go!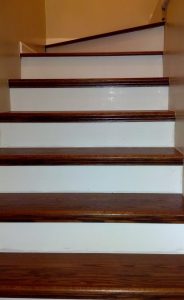 Example of Stained Red Oak Stairs