Alder Wood Stair Parts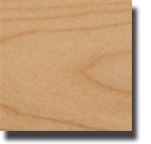 Red Alder is a relatively soft hardwood that is typically a light tan to reddish brown that darkens and reddens with age. The color is uniform with virtually no visible difference between the heartwood and sapwood. Alder lumber is not considered to be a durable hardwood, and not recommended for applications; such as decking or stairs.  But because of Red Alder's work-ability and easy finishing options, it is an excellent choice wood stairs, cabinets, and some flooring applications.  Red Alder is very easy to work with, machining, nailing and glueing well. It is especially easy to sand because the wood is rather soft. This also means that care must be taken to avoid denting. Alder provides a medium luster, and can be painted, or stained to a beautiful finish and when stained, it blends with walnut, mahogany or cherry. It dries easily with little degrade and has good dimensional stability. Ranges in grade from Knotty to Clear. It is often used in rustic or distressed applications. It has a Janka Hardness rating of 590 and is relatively inexpensive, and becoming one of the more popular hardwood alternatives since pricing is more economical in comparison to other hardwoods. According to Wikipedia, Red Alder is the largest species of alder in North America and one of the largest in the world, reaching heights of 66 to 98 feet.  Red Alder grows mainly on the Pacific coast, from Alaska to central coastal California.  Red Alder grows on cool moist slopes and mostly along watercourses and wetlands. All of our Red Alder stair parts are made in the USA, and customizable to your wood stair needs.
About our Alder Stair Parts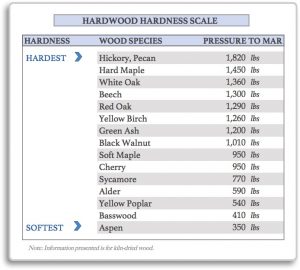 Our red alder stair prices are just slightly higher than those of poplar and hemlock and about the same as our red oak. Our top quality affordable stair parts in red alder are made in the USA. Red alder stair systems and parts are more popular in the western part of the country as it is more accessible. Our mill can get red alder material the same day the stair parts are ordered, and produce custom red alder stair parts within days.
Our most popular alder wood stair parts by category include:
6010 Alder Handrail – very versatile handrail in the wood stair industry. SKU LJ-6010
6000 Alder Handrail – a contemporary look with modern design. SKU LJ-6000
4091 Alder Box Newels – SKU – LJ-4091 –  popular stair box newels.
5060 Alder Balusters – square alder balusters work well with the 6010 or 6000 stair handrail.  SKU LJ-5060 – very similar to the LJ-5360
Alder Stair Treads – SKU LJ-8070 – ranging in size from 36″ to 60″ in all types of wood including alder.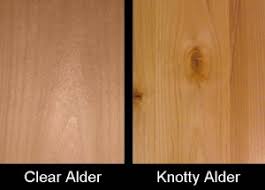 For the best alder wood stair balusters, treads, risers, winder treads, stair fittings, and hand railing check out our
We offer everything from red alder baluster, alder wood stair treads, and red alder handrails.  Red alder is lower on the hardwood hardness scale so it may scratch or dent a little easier than some of the other hardwoods like can be more susceptible to scratches or dents in the wood. It has a nice reddish color and a clear coat will bring this out. Red alder is very recognizable among the different types of wood – if you want something more unique and different for your hardwood home needs, we'd recommend something like Brazilian Walnut. Whether you are looking for a clear alder, or a knotty alder, either would provide a classic wood look for a good value – red alder is a great choice for your wood stairs, or wood cabinets!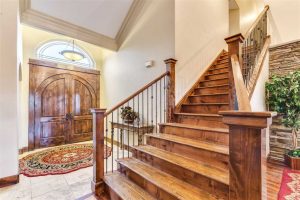 Example of Knotty Alder Stairs