Ipe/Brazilian Walnut Wood Stair Parts
The hardest common Brazilian import, Ipe is not actually related to North American Walnut, but it does have a well-earned reputation for being very strong and very tough. Ipe is an excellent choice for stairs and flooring. It resists nicks and abrasions and has a beautiful rich color of reddish brown – one of our most popular exotic species of wood for stair parts.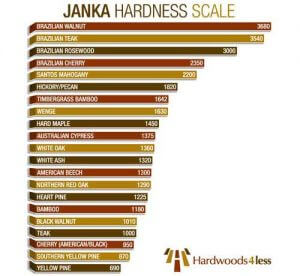 Hardness and Density of Brazilian Walnut / Ipe
Brazilian walnut is one of the hardest woods to work with – especially by hand. It is an extremely hard wood and can cause tools to dull. Ipe is 3 times harder than cedar. The 3/4″ thick piece of Brazilian walnut is about 4.5 pounds per foot. It can be one of the more costly types of exotic wood species to complete a stair project, but it will last a lifetime. This hardwood is one of the best you can buy when it comes to durability. With the hardness of the wood – it's difficult to scratch, dull, or warp. Brazilian Walnut (Ipe) has a similar density to Cumaru (Brazilian Teak). Ipe has the same fire rating as concrete and steel (WSJ).
Exterior / Outside Use of Brazilian Walnut
Ipe is also extremely resistant to termites – up to 15 years in ground. Not that you're going to put your stairs in dirt, but peace of mind for areas that have a lot of termites. Ipe or Brazilian Walnut is also very popular for decking and siding. With Brazilian walnut's resistance to rot, weather, and abrasion – it's a popular choice for the right application.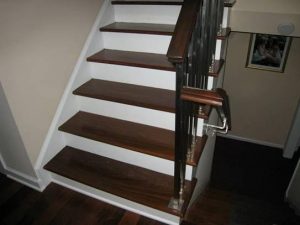 Brazilian Walnut (ipe) is one of the prettiest hardwoods available for stair parts. There is a premium for durability, hardness, and the fact it's harder to find.
Most Popular Ipe Stair Parts
Brazilian Walnut (Ipe) Stair Treads – Starting at $83.67
Brazilian Walnut 6000 Handrail – Starting at $108
Ipe/Brazilian Walnut Stair Risers – Starting at $48.26
Find the best prices on ipe stair parts of all kinds at WoodStairs.com. For specialty wood types such as Brazilian walnut we have a 1-2 week lead time depending the availability of Ipe with our supplies.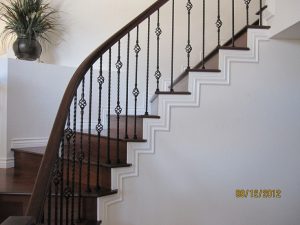 Brazilian Walnut
The best looking Brazilian walnut "Ipe" stair projects are never painted and usually stained with a clear coat. This will bring out the darkness of the Ipe in your stairs and provide a nice contrast.