Poplar Wood Stair Parts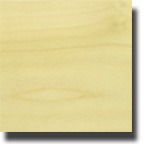 Poplar is a versatile soft and lightweight hardwood. People are often confused when it comes to poplar being considered a hardwood, as it is typically softer than pine which is considered a softwood. It is a creamy white in colored wood with grey and or brown streaks, but may also appear more yellow in color. As one of the most inexpensive domestic hardwoods, it is often used in paint grade applications, such as painted stair balusters, toys, cabinets, and other woodworking projects that will be painted. Poplar may also be stained to be used in place of more expensive hardwoods with similar grain patterns such as Cherry or Walnut when hardness is not an issue. However, to the trained eye, the differences in the wood will be obvious. It paints, stains (see below for special details regarding staining poplar wood), and enamels exceptionally well.  As mentioned poplar wood is very economical and has a Janka Hardness rating of 540.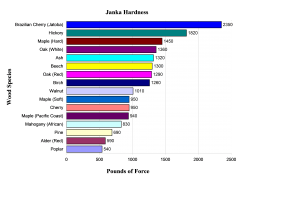 Poplar machines, nails, screws, glues and bores easily and dries easily with minimal shrinkage or movement. Poplar wood is very easy to work with when using a saw, lathe, or router. Some poplar may tend to tear while cutting if the cutting edge is less than optimal, or if your cutting tools are not sharp. Because poplar is relatively soft, compared to other hardwoods, sanding marks may be left if it is not sanded properly. We recommend progressively sanding poplar wood products, starting with a coarse grit sandpaper and gradually moving to finer grit sandpaper for the best results.
Poplar is fairly resistant to decay if it is sanded, primed, and painted/stained properly. Interior poplar wood projects should hold up to normal wear and tear, while outdoor poplar woodworking projects may require a fresh coat of paint every couple years. Staining poplar wood can be a bit tricky. In its natural form, raw unfinished poplar wood tends to stain very blotchy. In order to avoid blotchy staining, we recommend using a pre-stain wood conditioner, which will allow the wood to absorb the stain more evenly. The heartwood of poplar may consist of a grain a bit different than the sapwood. Therefore, when purchasing poplar wood for your project make sure the grains are consistent.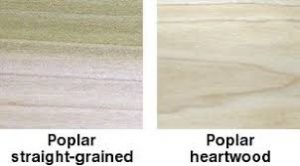 ABOUT OUR POPLAR STAIR PARTS
Our poplar stair prices are about the same price as our Ash wood stair parts, and just slightly higher than our Beech Wood and Alder wood stair parts. Our poplar stair parts are of top quality, affordable, and made in the USA. Poplar stair systems and parts are very available coast to coast, but the poplar species may vary. We can typically have poplar material delivered to our mill the same day and produce custom poplar stair parts within days.
Our most popular poplar stair parts by category include:
6A10 Poplar Handrail – Inexpensive popular handrail with wood stair customers. SKU LJ-6A10
6041 Poplar Handrail – For those looking for a wall mounted handrail for an enclosed stairway. SKU LJ-6041
4091 Poplar Box Newels – SKU – LJ-4091 – Available as a fluted box newel, standard box newel, and raised or recessed box newels.
5300 Poplar Balusters – ¾" Hampton pin top poplar balusters work well with the 6010 or 6000 stair handrail. SKU LJ-5300 – This Hampton pin top is also available in ¼" with the 5200 series LJ-5360.
Poplar Stair Treads – SKU LJ-8070 – Available on our website in 36", 42", 48", 54", and 60" lengths. Or we can custom make poplar stair treads to suit your needs.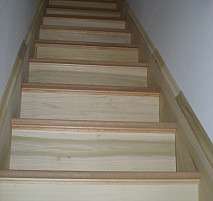 For the best poplar wood hand railing, stair balusters, treads, risers, winder treads, stair fittings, and check out our
We offer everything from poplar wood stair treads, poplar handrails, and poplar balusters. Although the name poplar may have you thinking it would be more susceptible to scratches and dents, it is actually much more scratch resistant than softer woods. It has several natural grain options to choose from and is compatible with clear coating. Poplar is very similar in looks to hard maple, yet distinguishable from many other different types of wood – if are looking for a hardwood, but would like a darker and more unique you may want to look at our more exotic woods like Brazilian Walnut or Purple Heart. Whether you are looking for poplar stair parts, either would provide a classic wood look – Poplar provides the same maple look without the hardwood price.