Walnut Wood Stair Parts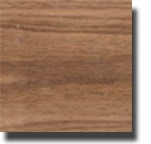 Walnut or Black Walnut is a tough medium density hardwood from North America. It has a beautiful fine, yet open grain and a moderately coarse texture. Typically straight-grained it occasionally contains wavy or curly grains as well. It's colors range from creamy white sapwood to chocolate brown heartwood, often with a purplish cast, darker streaks or golden highlights. It accepts paint and stain for an exceptional finish. It dries slowly and care is needed to avoid kiln degrade but it has good dimensional stability. The wood develops a rich patina that grows more lustrous with age. Walnut has a Janka Hardness Rating of 1010. It is relatively expensive but as one of the most beautiful domestic hardwoods, it is well worth the cost if you can find it in your budget.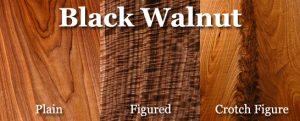 ABOUT OUR WALNUT STAIR PARTS
Our Brazilian Walnut stair prices are about the same price as our Vertical Grain Douglas Fir stair parts, while walnut prime stair parts are about the same as our Brazilian Cherry wood stair parts. Our walnut stair parts are of top quality, affordable, and made in the USA. Walnut stair systems and parts are available coast to coast. We can typically have some walnut material delivered to our mill the same day, some walnut woods may be more difficult to get and therefore take a bit longer to produce custom walnut orders. Many of our walnut stair parts can be produced within days, others may take weeks.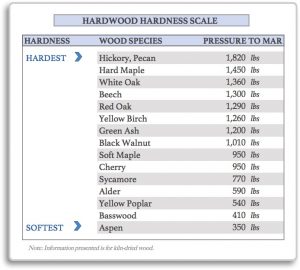 Our most popular walnut stair parts by category include:
6900 Walnut Handrail – Provides a detailed handrail for an elegant custom walnut staircase. SKU LJ-6900
6109 Walnut Handrail – A simple, versatile, yet elegant handrail design.  SKU LJ-6041
4091 Walnut Box Newels – SKU – LJ-4091 – Standard panel box newel adds class to large balustrades.
5360 Walnut Balusters – 1 ¾" craftsman or mission style square walnut balusters are available in plain, chamfered, fluted, or v-neck. SKU LJ-5360 – This square top baluster is also available in 1 ¼" with the 5060 series LJ-5060
Walnut Stair Treads – SKU LJ-8070 – Available on our website in 36", 42", 48", 54", and 60" lengths. Or we can custom make walnut stair treads to suit your needs.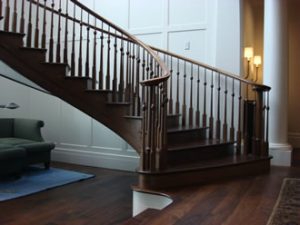 For the best walnut wood hand railing, stair balusters, treads, risers, winder treads, stair fittings, and check out our
We offer everything from walnut balusters, walnut handrails, and walnut wood stair treads. When viewing a pile of walnut lumber it's easy to assume it is of poor quality, simply because walnut has more characteristics than you typically find in other hardwoods. Even the best quality walnut may appear to have flaws or defects, but walnut is just different in respect to the grain, colors, and knotty character. Projects made out of walnut may require more cutting, arranging, and flipping of the boards than you are used to because of its variations in color and grain compared to other hardwoods. If you are looking for a quality hardwood but would like a lighter wood with a different grain you may want to look at our more exotic woods like African Mahogany or Brazilian Cherry. When considering purchasing quality hardwood for your stairs you won't go wrong in ordering walnut stair parts.