African Mahogany Wood Stair Parts
African mahogany is a large and common tree. It usually features a wide buttressed trunk and is known for its fine straight grain with an often reddish hue. This wood has traditionally been used for everything from door casings to canoes and is known to be structurally very strong and to be borer and insect resistant. It is reasonably resistant to weathering.
Known for its reddish-brown coloring and straight-grained appearance, African Mahogany is one of several different types of Mahogany trees often used in creating furniture and home features like wood stairs. Because it is moderately durable, African Mahogany can be a good choice wood for interior wood projects. It takes well to stains and glosses and holds up well to wear and tear.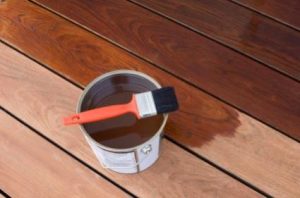 African Mahogany is the common name of the wood from several African trees that are similar to the Mahogany tree species found indigenous to the United States, but is actually part of the tree genus Khaya of the family Meliaceae, according to Wikipedia.
Because of its attractive appearance with deep, rich hues and design, African Mahogany is a popular wood to work with when building home features and furniture. Commercially, Mahogany is an important type of lumber. It is valued by home builders, and home designers thanks to not only its durability but also its color and overall aesthetic. In addition to wood stairs and furniture, African Mahogany is often used in home paneling, boats and even musical instruments and other items. The United States currently remains the leading importer of Mahogany wood types. This is followed by Britain. The largest exporter of the timber is Peru.  African Mahogany is unique in the way that unlike some other types of wood, it darkens as it ages and exhibits a reddish sheen when glossed.
About Our African Mahogany Stair Parts
Because African Mahogany is a popular type of wood to use for home projects such as wood stairs and cabinetry, the price of this wood can be affordable for various levels of budget. It is also more accessible than some other types of wood because of its popularity here in the United States. We offer top quality African Mahogany to help any home builder or designer find the perfect wood match for their wood stairs project. These African Mahogany stair parts are made in the USA and can be quickly ordered through our website to arrive promptly at any work site.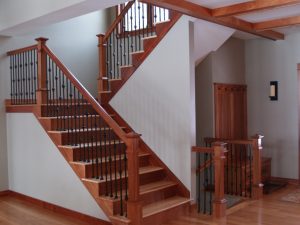 Our most popular African Mahogany stair parts by category include:
5700 African Mahogany Handrail – Our unique custom in-house handrail design, combined with African Mahogany wood will set your stairs apart from all others.
6041 African Mahogany Handrail – Designed for use as a wall mounted handrail for an enclosed stairway. SKU LJ-6041
4091 African Mahogany Box Newels – SKU – LJ-4091 – Available as a fluted box newel, standard box newel, and raised or recessed box newels.
2105 African Mahogany Balusters –  1 ¾" Challis Urn Square top hickory balusters work well with the 6010 or 6000 stair handrail. SKU LJ-2105
African Mahogany Stair Treads – SKU LJ-8070 – Available on our website in 36", 42", 48", 54", and 60" lengths. Or we can custom make Mahogany stair treads to suit your needs.
For the best African Mahogany hand railing, stair fittings, treads, risers, stair balusters, and winder treads, check out our wood stair parts catalog!
We offer just about every stair part needed for a project in African Mahogany including wood stair treads, handrails and mahogany newel posts. While African Mahogany can be durable and hold up well as indoor furniture and home use, it is not typically recommended for outdoor wood stairs or other projects because of its ability to be easily damaged by the sun, heat and rainwater or other moisture. Consider using Brazilian Teak (Cumaru) for outdoor wood projects. One of the major negative side effects of using African Mahogany is the concerns over the negative impact to the environment logging of African Mahogany trees are believed to have. Some areas, like Brazil, have banned the export of the tree. In the Philippines, environmentalists are calling for an end to the planting of mahogany because of the believed negative effects it is having on the environment and wildlife, according to Wikipedia. Other timber options like Ash or the Brazilian Cherry are considered to be better when it comes to environmental impact.
Picture Sources:
mazerailing.com
greenworldlumer.com