Ash Wood Stair Parts
Ash wood is a North American hardwood that is extremely hard and durable. It's often used in bows, tool handles, and for the bodies of electric guitars. It has a pronounced grain and nice variation from blonde to grayish light brown. It's a favorite of woodworkers because it takes stain very nicely.
Ash is one of the most popular wood species, thanks to its versatility, durability and reasonable cost, Ash trees are found in Europe, Asia and North America.
Those looking for a great type of wood to use to build stairs, whether it is indoor stairs or outdoor stair parts, Ash can be a great option to consider. Ash wood is often characterized as a choice wood for building various home projects like wood stairs as well as furniture and wood flooring because of the strength features, not to mention its attractive and clean-looking aesthetic. Ash hardwood is also known to contain elasticity unlike other types of hardwood. This is why Ash is a popular choice for other products like handles for tools, baseball bats and hunting bows.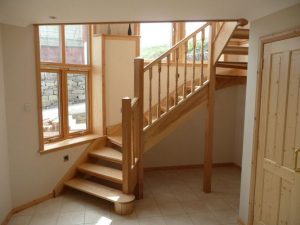 Many woodworkers and DIY home project enthusiasts often choose Ash because of its finishing qualities. This means Ash takes well to staining and glossy finishes. It is also easy to use with screws, glue and nails, which is perfect for those who need Ash hardwood to build furniture or complete other home projects. In fact, Ash veneers are used almost exclusively to build various types of office furniture. However, outdoor projects are less popular when it comes to Ash hardwood. It is possible to use Ash to build outdoor decks and staircases, but it is on a shorter lifespan compared with other types of wood that tend to do better outdoors with longer durability. The Ash heartwood has low durability to ground contact, so its lifespan, if touching the ground, is around five years. However, if the deck is elevated, Ash can still be a good option. Although other wood types might want to be considered instead.
About Our Ash Stair Parts
When it comes to indoor staircases, however, the robust structure of Ash combined with its good looks, ability to stain well and hard-wearing durability makes it a perfect choice. All of these characters are important when choosing a good hardwood for an indoor staircase project. Fortunately, Ash tends to check off all the boxes. It is also good to note that because of the elasticity with Ash, it can be worked on to create curved stair parts like Volutes (the curled section of a handrail) as well as carved and intricately designed balusters.
Our ash stair prices are just slightly higher than stair products made of Alder, and about the same price as our Red Oak hardwood stair parts.   All of our quality ash stair parts are made in the USA, right here in our wood shop.  Ash stair systems are versatile and popular in old European style homes as well as newer modern homes.  Many stair companies do not offer to make stair parts in ash because accessibility to ash wood can be challenging at times.  Because WoodStairs has good relationships with quality wood providers, we are typically able to get ashwood at very affordable rates on a consistent basis.  When placing your ash wood stair orders with us you won't have to worry about waiting months to receive your order.

Our most popular red alder stair parts by category include:
6040 Ash Handrail – is a popular handrail for all stair uses. SKU LJ-6040
6000 Ash Handrail – a contemporary look with modern design. SKU LJ-6000
4000 Ash Craftsman Newels – SKU – LJ-4000 – is a very popular 3 1/2″ craftsman style newel post.
5370 Ash Balusters – Round 1 3/4″  ash balusters add to any modern/craftsman type staircase.  SKU LJ-5370 – or for a 1 3/4″ square modern/craftsman baluster take a look at the LJ-5360
Ash Stair Treads – SKU LJ-8070 – ranging in size from 36″ to 60″ in all types of wood including Ashwood.  You may also select a mitered return and choose whether you would like a square front edge or a more rounded "bullnose" front.
For the best Ash hand railing, stair balusters, treads, risers, winder treads, stair fittings, and check out our wood stair parts catalog!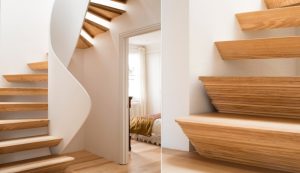 We offer just about every stair part needed for a project Ash hardwood including wood stair treads, handrails and newel posts. We also offer top quality Ash wood to help home builders and designers find the best pieces of Ashwood stair pieces for their upcoming project. The Ash stair parts are made in the United States and can be quickly ordered through our website to arrive quickly at any work site to create a beautiful wood staircase.
Picture Sources:
dblaney.wordpress.com