Purpleheart Wood Stair Parts
When recently cut, Purpleheart is a dull gray or purplish brown. As it ages and is exposed to UV light, its color darkens to a deep eggplant purple. In addition to its desirable color, purpleheart is also quite durable and very hard.
Purpleheart wood is a unique type of lumber sometimes called amaranth. It is a colorful American hardwood and is often popular with furniture and other wood designs looking for a splash of color. Purple heart wood is from the peltogyne genus featuring 23 species of flowering plants.
True to its name, Purpleheart wood is purple in hue with a heartwood that is dull grayish purple reddish brown. When the wood is exposed to light it can become a deeper eggplant purple with age. With the more exposure to light, the wood becomes a darker brown with a hint of purple, according to the Wood Database online. However, the color shift can be slowed and minimized if a woodworker uses a UV inhibiting finish on the wood.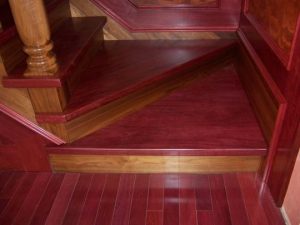 The grain and texture of Purple heart wood are usually straight but sometimes can be found to be wavy and irregular. The medium texture of this hardwood also features a good natural luster. Rot resistance of Purpleheart wood is rated to be durable and the wood is able to resist both decay from insect attacks and rot. However, Purpleheart wood has been reported to be susceptible to attack from Marine borers, which should be taken into consideration for Woodworkers looking to use purpleheart.
About our Purpleheart Wood Stair Parts
Purpleheart wood does have some challenges when it comes to workability. These unique challenges indicate that if the wood is heated with tools or cutter speeds are too high the Purpleheart wood can express a gummy resin. This may result in clogging tools and complicating the machine process. Purple heart wood is widely available and features good widths and thicknesses to be used for a variety of home projects including to be used for flooring, Cabinetry, common boat building, heavy construction as well as inlays in accent pieces and wood stair parts.
Purpleheart is not one of the wood species choices available on our website, but all of our wood stair parts may be made out of purpleheart lumber by request.  Contact our wood specialists to get a custom quote on purple heart stair parts.  Besides purpleheart, we also carry a number of other exotic woods with unique color, incredible strength, durability, and unmistakable grain including:
and Tigerwood
Wood from these trees is considered to be extremely dense and w345ater-resistant, which makes it one of the hardest and stiffest woods in the world. Many woodworkers utilize the density and strength of Purple heart wood to use it in projects that require an extremely hard wood such as truck decking and outdoor wood projects. However, there is a higher cost to Purpleheart wood which is why it is considered a fairly expensive wood and isn't as economical as other types of lumber. This is why some Woodworkers only use it on smaller-scale projects. However, we do offer a variety of high-quality Purpleheart wood stair parts that can be shipped quickly and easily to help you complete your wood stairs project. Feel free to let us know if you have any questions about the best ways to use Purpleheart wood in building your wooden staircase.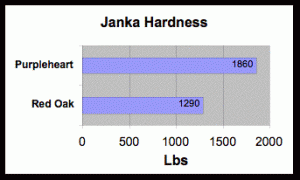 Contact us for a quote on your next Purplehead wood stairs project!
Photo Sources:
pintrest.com
floridahardwood.net