Hemlock Wood Stair Parts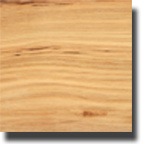 Hemlock is a softwood with straight fine-textured grain that lacks pitch or resin. With little variance between its heartwood and sapwood it is a nearly uniform buff color, with some red tinges. Very durable with little tendency to cup, check or twist. Machines, nails, screws and glues well, and can be stained to a very good finish. Outdoor use requires preservative treatment. It has a Janka Hardness rating of 500, which is a relatively soft wood but that is known to toughen up with age. Hemlock is one of the softest woods, is relatively inexpensive yet versatile, and therefore used for everything from house framing to wood stair parts. Poplar and Alder are very similar in price, but a slightly harder wood.
Hemlock species: Hemlock wood – Western Hemlock – Eastern Hemlock – Canada Hemlock – Hemlock Spruce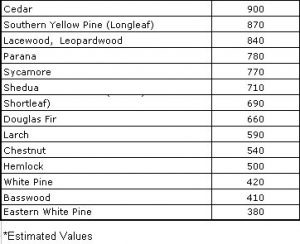 Hemlock became more well known during the 1940's housing boom when home construction turned to building more wood-framed homes. Hemlock lumber, primarily from the Western United States of Oregon and Washington, provides the majority of lumber for home construction and millwork manufacturers. The western hemlock is one of the lumber industry's few remaining sources of large, clear timber. 100 year old western hemlock trees can grow to be about 150' tall and 24 inches in diameter. Whereas a 250 year old eastern hemlock tree (found primarily in the Eastern part of the U.S.) will only grow to be about 80' tall and 36" in diameter.
Hand or power tools can easily be used to work with hemlock. However, if crosscutting expect some tearout. Hemlock grips screws and works well with all types of glue. Because western hemlock is resin-free, it can be painted, stained, or clear finished with much more pleasing results than with the eastern species. Neither hemlock species should be used for outdoor projects unless a preservative treatment is applied.
The construction industry uses hemlock for various purposes including framing, sheathes, wood floors, window frames, panel doors, molding, panelling, and wood stair components. Because hemlock is easily machined and finished it is becoming a popular alternative to hardwood furniture and cabinets.
About our Hemlock Stair Parts:
Hemlock stair prices can vary depending on supply and demand, as hemlock is typically processed once a year. Hemlock stair products can also be slightly smaller than the same model number made of similar types of wood because hemlock is often not available in wider widths such as white oak and Brazilian Cherry. Our western hemlock and eastern hemlock stair parts are made in the USA, with some of the best quality inexpensive hemlock available. Hemlock wood stair systems and parts are available to our customers all over the country. Our in-house mill can create hemlock wood products the same day, or ship custom hemlock wood stair parts within days.
Our most popular hemlock stair parts by category include:
6900 Hemlock Handrail – the most decorative handrail in the industry. SKU LJ-6900
6000 Hemlock Handrail – a clean and contemporary look for modern design. SKU LJ-6000
4094 Hemlock Box Newels – SKU – LJ-4094 – our most popular recessed panel box newel posts.
5005 Hemlock Balusters – Hampton square top wood balusters that go with the 6010 or 6000 handrails quite well. SKU LJ-5005- very similar to the LJ-2105
Hemlock Stair Treads – SKU LJ-8070 – ranging in size from 36″ to 60″ in all types of wood including hemlock.
Find the best hemlock wood stair treads, risers, winder treads, hand railings, and stair fittings, in our wood stair parts catalog!
We offer everything from hemlock baluster, hemlock stair treads, and hemlock wood handrails. Hemlock wood is lower on the Janka hardness scale, so it may be more susceptible to scratches and dents in the wood. It has a nice straight grand, finer texture that can be sanded to a reflective silky smooth wood. If you are looking for something a little more unique or darker in color, we'd recommend something like Brazilian Walnut. Whether you are looking for Hemlock hardwood stair parts or cabinets, either would be a cost-effective choice.