Hard Maple Wood Stair Parts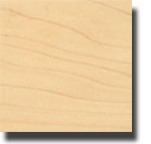 Hard Maple sapwood is a creamy white with a faint reddish brown or golden hue, while the heartwood varies from light to dark reddish brown, both may contain pith flecks. Unlike most other hardwoods, Hard Maple lumber is primarily made from the sapwood of the tree as opposed to the heartwood.  It has a smooth texture with a close fine grain that is usually straight but can also occur in "curly," "fiddleback," and "birds-eye" variations. It is hard and heavy with good strength properties and high resistance to abrasion and wear. It has high shrinkage and some movement. It is a mid-priced hardwood with a Janka Hardness rating of 1450. By the way, Hard Maple trees are also known as "sugar maple" due to the fact that they are tapped for their sap, and used as the primary source from which Maple Syrup is made.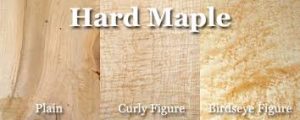 The grain of hard maple is generally straight but may be wavy.  Hard maple has a fine and even texture.  Hand and machine tools work fairly easy with hard maple, but due to density and hardness, it is slightly more difficult than soft maple.  Maple can have a tendency to burn when being machined by high-speed cutters/routers.  With care, it machines and turns well and glues satisfactorily. Pre-boring is advised for nailing and screwing. It can be polished and stained to an excellent finish, especially in brown tones. Some blotching may occur when staining, but a more even color is achievable by using a pre-conditioner, gel stain, or toner prior to staining.
Hard maple creates a beautiful and strong staircase, but can also be used for flooring, musical instruments, cutting boards, butcher blocks, baseball bats, turned wood objects, and custom wood projects.  Hard maple is stronger, stiffer, denser, and harder than all other species of Maple available in commercial lumber form.
ABOUT OUR HARD MAPLE STAIR PARTS
Our hard maple stair prices are just slightly higher than those of American Cherry Wood and Alder and about the same as our Ash wood stair parts. Our hard maple stair parts are of top quality, affordable, and made in the USA.  Hard Maple stair systems and parts are very popular throughout the country.  We can typically have hard maple material delivered to our mill the same day and produce custom hard maple stair parts within days.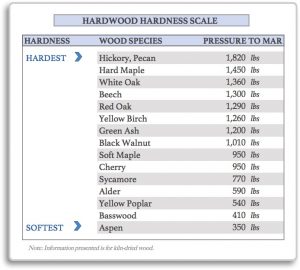 Our most popular hard maple stair parts by category include:
6A10 Hard Maple Handrail – very popular handrail with wood stair customers. SKU LJ-6A10
6041 Hard Maple Handrail– For those looking for a round handrail. SKU LJ-6041
4091 Hard Maple Box Newels – SKU – LJ-4091 –  Available as a standard box newel, fluted box newel, and raised or recessed box newels.
5300 Hard Maple Balusters – ¾" Hampton pin top hard maple balusters work well with the 6010 or 6000 stair handrail.  SKU LJ-5300 – This Hampton pin top is also available in ¼" with the 5200 series  LJ-5360
Hard Maple Stair Treads – SKU LJ-8070 – Available on our website in 36", 42", 48", 54", 60".  Or we can custom mill hard maple stair treads to suit your needs.
 For the best stair balusters, treads, risers, winder treads, stair fittings, and hand railing in hard maple check out our wood stair parts catalog!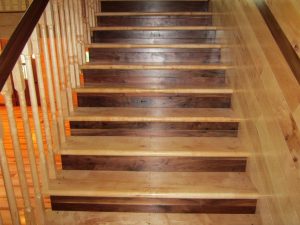 We offer everything from hard maple baluster, hard maple handrails, and hard maple wood stair treads.  Hard Maple is higher on the hardwood hardness scale so there is little concern regarding scratches and dents.  It has a nice natural grain and compatible with clear coating. Hard Maple is very distinguishable among the different types of wood – if are looking for a hardwood, but would like something a little more unique you may want to look into a more exotic wood like Brazilian Walnut. Whether you are looking for soft maple, or hard maple stair parts, either would provide a classic wood look  – Hard Maple would be a great choice for a more durable and strong wood staircase.